Top-of-the-Line Attachments
Vacuum Attachments
Our equipment includes vacuum attachments that enable you to get into every nook and cranny, creating a truly dustless environment. Enable your shop vac to do more for you with the right accessories.
Better Attachments for Your Shop Vac
Dustless Technologies creates an array of attachments that are essential for construction companies, contractors, and do-it-yourselfers. A worksite littered with dirt and scraps is challenging to work in and may even present a health hazard to workers exposed to dust particles in the air. Maintaining a work environment free of dust is an essential part of any renovation or new construction to stay in compliance with OSHA regulations. Depending on the task at hand, you require certain tools to thoroughly and efficiently clean a variety of surfaces. Cracks and crevices are especially susceptible to collecting hard-to-reach dust and debris, which is where a specialized tool would certainly come in handy. When you're working on a large project, and you want to effectively use your time, having the right equipment is essential. So, what vacuum attachments can you use to clean small spaces?
A crevice tool is specially designed to access tight corners that a standard vacuum head can't reach. But this isn't the only feature available with our wet-dry vacuum, which can clean up water in addition to dust for the cleanest clean. During renovations and other projects, you'll want access to the best vacuum attachments for shop vacs in order to achieve superior results. Our line of additional equipment and accessories helps you keep workspaces and other areas clean and dust-free.
The Dust Collection Systems
Our scraper vacuum attachment has a sharp blade so that it's easier than ever to peel away layers of debris from floors, walls, and other surfaces. It's compatible with our 18" hose and powerful Dustless HEPA Vac for a total mess-free system that makes working on projects a more precise and efficient task. In addition, you can conveniently add some replacement blades to your order for future use. Ours is the only tool you need to use when you're scraping away materials because it gives you a good grip and is lightweight enough to hold for extended periods of time. Eliminate project cleanup by collecting scraps automatically at the source, which means no more sweeping or picking up debris by hand. Dustless Technologies makes the most universal and cost-effective dust collection systems on the market. No need to replace your existing tools!

Creates Dust
Hand grinders, saws, drills, and other construction tools create large volumes of dust. This dust is harmful to your lungs, timely to clean up, and in many cases, required by law to be contained. Your tool can't solve all these issues alone.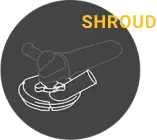 Diverts Dust
A shroud is a device that creates a controlled path for the dust to travel. Once it's attached to your tool and vacuum, it helps to control dust generation. Each Dustless Systems shroud is designed with a universal mount that fits most major types of tools.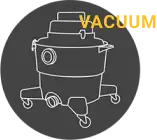 Collects Dust
Our Dustless Vacs were made with construction in mind. Every Dustless Vac is an essential part of a Dustless System. Every Dustless Vac provides superior levels of filtration and comes with a three-year warranty.
The Best Vacuum Accessories
Shop vac attachments help you be more productive and efficient, saving you more time on projects overall. The top-of-the-line attachments from Dustless Technologies add versatility to your arsenal of tools for a range of cleaning tasks. You may need to approach different maintenance jobs with a unique technique so that they're completed correctly. Whatever approach you must take, we have the vacuum accessories needed to effortlessly keep your work area clean during renovations and construction projects of all kinds. Our powerful HEPA vacuums have an 18" hose that's compatible with a standard S-wand, but you can just as easily swap it out for any one of our other accessories.
For example, our floor squeegees are capable of easily collecting water from wet floors with use of our wet dry vacuum. When attempting to remove dust and debris from corners and other out-of-reach areas, the crevice tool does wonders to suction it out and trap it in our 4-layer filtration system. Our vacuum attachments work well on various surfaces, whether they're prone to scratches or require a bit more scrubbing to clean effectively. With this in mind, we carry wire and horsehair brushes to help conveniently meet your needs.
Order Your Shop Vac Attachments Now
Shop our website for a range of versatile vacuum accessories that let you accomplish more by simply swapping them out as needed. Our line of attachments has wet and dry cleaning capabilities that are compatible with our high-performance vacuum, hose, and shrouds. With the right set of equipment, it'll be easier for you to clean your worksite regardless of the mess. Access hard-to-reach places, thoroughly clear away debris, and keep the area in order as you go along. Dustless Technologies offers the best in dust management products for professionals in construction, janitorial services, and renovations to take advantage of. Check out our vacuum attachments for shop vacs and order yours online today.
Other Products Related to Attachments