Wet Matter is No Problem
Dustless Slurry Vacuums
The Dustless Industrial Slurry Vac System provides suction strong enough to remove wet debris with up to a 100' long hose, allowing you to easily reach any cleanup area.
Handle Wet Debris and More with the Dustless Slurry Vacuum
The sealed drum head stands up to the toughest of job sites punishment, keeping debris out of the motor for unrelenting performance and reduced replacement costs. The powerful system runs off standard 20-amp power and features a large-capacity 55-gallon drum for continued vacuuming. The system is also designed with a drain at the bottom of the drum, making your workload faster, cleaner, and more efficient. The industrial Dustless Slurry Vac System is ideal for compliance with EPA and OSHA Silica Dust Standard regulations that slurry produced must be cleaned up with proper disposal.
Looking for a replacement part?
Search our inventory of replacement parts and place an order today.
The Dust Collection Systems
Our scraper vacuum attachment has a sharp blade so that it's easier than ever to peel away layers of debris from floors, walls, and other surfaces. It's compatible with our 18" hose and powerful Dustless HEPA Vac for a total mess-free system that makes working on projects a more precise and efficient task. In addition, you can conveniently add some replacement blades to your order for future use. Ours is the only tool you need to use when you're scraping away materials because it gives you a good grip and is lightweight enough to hold for extended periods of time. Eliminate project cleanup by collecting scraps automatically at the source, which means no more sweeping or picking up debris by hand. Dustless Technologies makes the most universal and cost-effective dust collection systems on the market. No need to replace your existing tools!

Creates Dust
Hand grinders, saws, drills, and other construction tools create large volumes of dust. This dust is harmful to your lungs, timely to clean up, and in many cases, required by law to be contained. Your tool can't solve all these issues alone.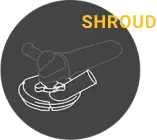 Diverts Dust
A shroud is a device that creates a controlled path for the dust to travel. Once it's attached to your tool and vacuum, it helps to control dust generation. Each Dustless Systems shroud is designed with a universal mount that fits most major types of tools.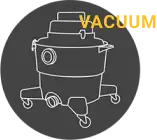 Collects Dust
Our Dustless Vacs were made with construction in mind. Every Dustless Vac is an essential part of a Dustless System. Every Dustless Vac provides superior levels of filtration and comes with a three-year warranty.
Other Products Related to Slurry Vacuums