Versatile Vacuums
Dustless HEPA Backpack
Vacuum
The HEPA Backpack Vacuum was designed to improve worker safety and productivity. The lightweight and durable construction is less physically demanding on the user, thereby allowing them to handle the job more efficiently.
Backpack Vacuums Offer Easy and Thorough Cleaning
Backpack Vacs provide easy access to floors, ceilings, and hard-to-reach areas making them ideal for janitorial work and job site cleanup. In order to work efficiently, it's important to have versatile equipment that allows you to move freely without interference as you clean areas high and low. An occupational hazard for maintenance staff is the risk of tripping over extension cords and the potential for injury. Your risk is minimized by wearing a backpack vacuum with a lightweight, ergonomic design that is fitted properly. Its increased safety and reduced fatigue, when compared to the upright variety, will make vacuuming a more comfortable and manageable task.
Our backpack-style equipment comes with convenient belt-mounted controls and an S-wand that attaches directly to a long hose for use on a variety of surfaces. It has plenty of suction power for all kinds of messes as well as a quad-layer HEPA filtration and integrated filter cleaning system that is OSHA Silica Dust & EPA/RRP compliant. Disposable open-top bags are used for general cleanup, while sealable bags are ideal for meeting EPA/RRP requirements on jobs involving hazardous materials like lead & asbestos. This robust yet easy-to-use backpack vacuum is one of the best of its kind on the market today.
Looking for a Replacement Part?
Search our inventory of replacement parts and place an order today.
The Dust Collection Systems
Our scraper vacuum attachment has a sharp blade so that it's easier than ever to peel away layers of debris from floors, walls, and other surfaces. It's compatible with our 18" hose and powerful Dustless HEPA Vac for a total mess-free system that makes working on projects a more precise and efficient task. In addition, you can conveniently add some replacement blades to your order for future use. Ours is the only tool you need to use when you're scraping away materials because it gives you a good grip and is lightweight enough to hold for extended periods of time. Eliminate project cleanup by collecting scraps automatically at the source, which means no more sweeping or picking up debris by hand. Dustless Technologies makes the most universal and cost-effective dust collection systems on the market. No need to replace your existing tools!

Creates Dust
Hand grinders, saws, drills, and other construction tools create large volumes of dust. This dust is harmful to your lungs, timely to clean up, and in many cases, required by law to be contained. Your tool can't solve all these issues alone.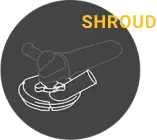 Diverts Dust
A shroud is a device that creates a controlled path for the dust to travel. Once it's attached to your tool and vacuum, it helps to control dust generation. Each Dustless Systems shroud is designed with a universal mount that fits most major types of tools.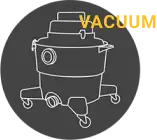 Collects Dust
Our Dustless Vacs were made with construction in mind. Every Dustless Vac is an essential part of a Dustless System. Every Dustless Vac provides superior levels of filtration and comes with a three-year warranty.
The Best Backpack Vacuums are From Dustless
At Dustless Technologies, we offer the best backpack vacuums with 4-layer HEPA filtration and OSHA-complaint filter cleaning system. Our equipment is perfect for thorough maintenance and renovations because of its ability to capture 99.9% of dust particles and trap them inside of a clamp-down sealed filter bag. With two and a half gallons worth of space to collect dust and debris, this high-performance backpack vac is capable of assisting you with a wide range of cleanups. The hose is compatible with our drill shroud, crevice tool, and floor brush attachment for added efficiency.
If you have a cleaning business or are working on a restoration project, being equipped with the latest tools will make your job a whole lot easier. Backpack vacuums are one such piece of equipment that, once you have it, you can't do without it. A traditional standup vacuum just doesn't offer the same ease of movement, safety, and comfort for workers who need to complete the task quickly and thoroughly. With everything you need to control settings and maneuver the vacuum conveniently at your fingertips, this is an excellent choice for your professional cleaning needs. Increase productivity with your own backpack vac and experience a better way to clean up those messes.
Buy Your Backpack Vac Online Now
Purchase the backpack vac from Dustless Technologies to make cleaning a breeze. The well-fitted, durable, and lightweight design will be easy to carry around with you as you clean up messes on various surfaces. Its effective suction capability pulls dust and other debris out from even the most hard-to-reach places. With its incredible suction power, this vacuum is an investment that pays for itself with its ability to remove dust from cracks, blinds, stairs, and more. There's no job too big or small for the best backpack vacuum on the market, so don't wait to buy your own and get more value out of it. Shop our backpack vac online now!
Other Products Related to Backpack Vacuums