The Best Ash Vacuum Is At Dustless Technologies
Dustless Technologies continues to be the premier source for dust extraction and containment systems suitable for a wide variety of applications, including construction, renovation, and industrial use. We carry the best ash vacuum on the market today, the Cougar+Black – the perfect tool that makes cleaning out everything from fireplaces to BBQ grills safe and easy.
You can use the Cougar+Black ash vacuum with a range of dustless tools and accessories to scrape ash off surfaces and get into hard-to-reach areas. Our flagship vacuum for ash also comes with a variety of full-size and mini tool kits to facilitate easier cold or warm ash containment and disposal. The only ash vac you'll ever need and other tools to build an all-in-one dust extraction system are all available on our online store.
The Cougar+Black Ash Vacuum
The Cougar+Black is a specialized vacuum cleaner designed for cleaning up cool to warm fine ash from fireplaces, wood stoves, pellet stoves, BBQs, and similar sources. It features a patented filter system designed to filter even the finest ash particles and a sealed design that prevents ash from leaking through the exhaust. Our ash vacuum has a full set of accessories to help capture dust from tight places, including brush attachments for scraping ash off surfaces and those that can fit into tight corners.
One of the best features for keeping ash contained inside of the ash vac is specially-designed filters that can be cleaned without opening the unit. The Cougar+Black has a 6-gallon capacity to contain more ash before suction power decreases, and you must perform disposal. Our flagship ash vac is designed and assembled in the USA with proprietary parts, and others made exclusively for the Cougar+Black. You'll get added peace of mind with an included 3-year limited warranty.
The Cougar+Black ash vacuum is a must-have tool for anyone who needs to clean up ash from their fireplace or stove without spreading dust and ash throughout their home.
Looking for a Replacement Part?
FAQs
Shop for Ash Vacuums and Accessories at Dustless Technologies
Dustless Technologies is committed to providing effective, high-quality dust control solutions to help protect the health and safety of workers and improve air quality at home or in the workplace. Removing ash from fireplaces and stoves with a pan or regular shop vac can be a dangerous and messy task. A pan can spill ash all over the floor, while a regular shop vac can reignite embers and potentially start a fire.
That's why investing in a high-quality ash vacuum like the Cougar+Black is important. With its superior suction power and components that safeguard against reigniting embers, it's the best ash vacuum on the market. If you're looking for a reliable and safe tool to clean up cool to warm ash from your fireplace, wood stove, pellet stove, or BBQ, visit the Dustless Technologies online store to shop for high-quality ash vacuums and accessories today.
The Dust Collection Systems
Our scraper vacuum attachment has a sharp blade so that it's easier than ever to peel away layers of debris from floors, walls, and other surfaces. It's compatible with our 18" hose and powerful Dustless HEPA Vac for a total mess-free system that makes working on projects a more precise and efficient task. In addition, you can conveniently add some replacement blades to your order for future use. Ours is the only tool you need to use when you're scraping away materials because it gives you a good grip and is lightweight enough to hold for extended periods of time. Eliminate project cleanup by collecting scraps automatically at the source, which means no more sweeping or picking up debris by hand. Dustless Technologies makes the most universal and cost-effective dust collection systems on the market. No need to replace your existing tools!

Creates Dust
Hand grinders, saws, drills, and other construction tools create large volumes of dust. This dust is harmful to your lungs, timely to clean up, and in many cases, required by law to be contained. Your tool can't solve all these issues alone.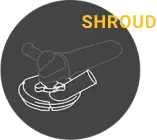 Diverts Dust
A shroud is a device that creates a controlled path for the dust to travel. Once it's attached to your tool and vacuum, it helps to control dust generation. Each Dustless Systems shroud is designed with a universal mount that fits most major types of tools.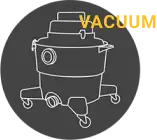 Collects Dust
Our Dustless Vacs were made with construction in mind. Every Dustless Vac is an essential part of a Dustless System. Every Dustless Vac provides superior levels of filtration and comes with a three-year warranty.
Other Products Related to Ash Vacuums