The Most Effective Dust Containment Vacuums
Dustless Vacuums
Dustless Technologies makes universal and cost-effective dust collection systems, including a line of vacuums. Shop vacuums and wet+dry vacuums are essential equipment for construction companies, contractors, and creators and are suitable for home-usage. Our dust control vacuums keep workspaces and other areas clean and dust-free because they do more than simply vacuum.
The Benefits of Dustless Vacuums
Our line of dustless HEPA shop vacs and wet+dry vacuums are powerful enough to take on any job you need and trap, liquid dust and debris, preventing it from infiltrating the air. Clean air in any working environment is necessary, and Dustless Technologies does that.
Universal Fit
Our products will work with most major brands and their respective tools, so you don't have to purchase all new equipment.
EPA RRP, OSHA & NIOSH COMPLIANCE
Dustless systems either meet the standard set forth in Table-1 of OSHA's new silica standard or meet compliance through objective data.
Outstanding Warranty
Each Dustless Vac comes with a three-year warranty and customer support.
Green Company
In 2016, we installed a series of solar panels on the roof of our warehouse. Since then, these panels have enabled us to produce our own electricity to support operations.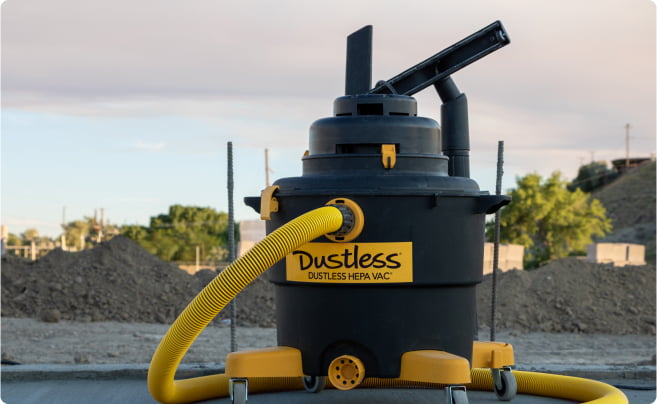 What is a Dustless HEPA Vacuum?
Our line of Dustless HEPA vacuums are workhorses for both industrial and personal applications. HEPA is an acronym for High-Efficiency Particulate Air and refers to a type of filter. HEPA filters remove at least 99.97% of synthetic airborne particles 0.3 micrometers in diameter from the air. We have an array of dustless HEPA vacuums that are equally suitable for the average do-it-yourselfer and large-scale construction and manufacturers. When it comes to needing the best product that meets your needs, look to Dustless Technologies for a HEPA vacuum that does so much more.
Feel like something is missing?
Our Dustless HEPA vacuums filter more particulates from surfaces and the air by forcing the air through fibers that trap them. And with minimal airspace left between the filters, so they catch even the smallest contaminates. HEPA filters offer high-quality purification, which is essential for individuals who work in construction, carpentry, cleaning, and similar industries. Dustless vacuums are highly effective in removing particles like silica, concrete, sawdust, pollen, pet dander, dust mites, and smoke.

The Dustless Technologies HEPA vacuums are an outstanding piece of equipment for any construction professional, especially those that perform EPA RRP work and require a full unit certified vacuum. Designed with construction in mind, these dust extractor vacuums are powerful enough to take on any job that you need. Whether you're cleaning up concrete, drywall, paint removal, or liquid, each vacuum is engineered with a purposeful balance of airflow and suction. Our dustless HEPA vacuums have sustained usage without clogged filters. Our wet+dry vac and wet+dry HEPA vacs go from wet to dry without switching filters.
Show More
The Dustless Wet+Dry HEPA Vacuums are ideal for contractors required to comply with EPA RRP regulations covering lead paint removal and the OSHA Silica Dust Standard, making for safe, more efficient job sites and easy cleanup.
Dustless Industrial vacuums
The DustDroid Industrial Vacuums are ideal for compliance with EPA RRP lead paint removal and OSHA Silica Dust Standard regulations. These workhorse vacuums have fewer moving parts, and no solenoids, requiring less maintenance and providing more reliable performance.
The Dustless Industrial Slurry Vac System provides suction strong enough to remove wet debris with up to a 100' long hose, allowing you to easily reach any cleanup area.
Dustless HEPA Backpack Vacuum
The HEPA Backpack Vacuums were designed to improve worker safety and productivity. The lightweight and durable construction is less physically demanding on the user.
Dustless started with the need for an effective way to empty a fireplace. Today we are still producing the safest and most reliable fireplace and pellet stove vacuum on the market.
The Dustless Wet+Dry Vacuum is great for capturing fine dust from drywall sanding, grinding/cutting of concrete, brick, stone, or fiberglass. Our high-performance Wet Dry Vacs provides powerful suction and intense durability that stand up to whatever the job site throws at you.
Looking for a replacement part?
EPA, RRP, OSHA, & NIOSH compliance
Create a safe jobsite that protects the health of you and your employees! Comply with hazardous dust control rules on construction sites. Dustless systems either meet the standard set forth in Table-1 of OSHA's new silica standard or meet compliance through objective data.
Discover What People Have Said About Us

Shop Dustless Today
Shop our complete collection of dustless shrouds, dust collection, and dust management products today. Keeping your work areas clean, safe, and dust-free has always been our top priority. Now you can rest at ease with the best tools and equipment available.