Dustless Wet + Dry Vacuums
The Dustless Wet + Dry Vacuum is great for capturing fine dust from drywall sanding, grinding, and cutting of concrete, brick, stone, or fiberglass. Our high-performance Wet Dry Vacs provide powerful suction and intense durability that stand up to whatever the job site throws at you.
Hard Working Wet & Dry Vacuums
The patented Dustless Wet Dry Vacs have a powerful 130 CFM motor, a 16-gallon capacity, and allow you to go from wet to dry without switching filters. A baffle inside the barrel keeps the water away from the filters, and a check ball prevents overfilling, making it better than other shop vacs on the market today.
The patented filtration system of the Dustless Wet Dry Vacs allows you to clean the filters without opening the barrel for a more dust-free work environment. These vacuums provide extremely high-performance results. The disposable and tear-resistant WunderBag™ micro pre-filter shop vacuum bag captures particles down to .5 microns.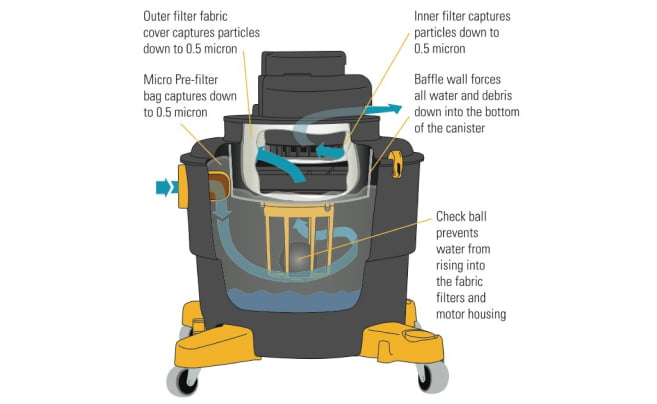 Get A Vacuum that Does the Job
Wet & dry vacuum cleaners are incredibly versatile and can handle many tasks at home, in the office, and on the work site. Situations like unblocking clogged sink drains, vacuuming carpets, damp or otherwise, removing dust and debris, and cleaning up large spills.
The Dustless Wet + Dry Vac is an excellent all-around cleaner because it's a piece of versatile equipment with attachments that can accomplish a wide range of tasks. In addition, those who take on home improvement tasks or DIY projects would benefit from a wet & dry vacuum to quickly clean up debris, dirt, sawdust, or paint spillages.
A high-quality wet and dry vacuum sucks up heavy, solid dirt, debris and moisture, liquid, or wet messes. Like standard vacuum cleaners, wet and dry vacuums have locking hoses and extension wands. Dustless also produces various attachments to suit your task, so no matter the job or size of the mess, our wet and dry vac fits the bill. Dustless Technologies Wet + Dry Vacs are significantly more powerful than standard vacuums with a separate airflow motor.
Clean Up The Worst Messes with a Dustless Wet + Dry Vac
Dustless Technologies specializes in high-powered vacuums and manual equipment and makes universal and cost-effective dust collection systems. Our products keep workspaces and other areas free of dust and debris. We help you create a safe job site that protects the health of those in the area. The array of Dustless tools complies with hazardous dust control rules, so whether for commercial or personal use, we have the equipment and attachments you need.
The outer filter fabric cover, filter, and micro pre-filter on our Wet + Dry Vac capture particles down to .5 microns. Additionally, the baffle wall forces all water and debris down into the bottom of the canister, and the check ball prevents water from rising into the fabric filters and motor housing.
Our unique Dustless Wet + Dry Vacuum lines help keep construction, painting, renovation, flooring, automotive, marine, and industrial projects dust-free. With our robust distribution network of dealers, distributors, and hardware stores, we provide innovative dust and slurry control solutions worldwide.
Looking for a replacement part?
Search our inventory of replacement parts and place an order today.
Trust Dustless- Get Your New Wet + Dry Vac Today
A wet and dry vacuum cleaner is a versatile cleaning appliance that removes dry dust and is ideal for removing wet spills. Wet and dry vacuums are most widely used to clean up liquids and moisture. Cleaning wet messes can be challenging, whether it's in a home, a shop, or a construction site. Cleaning wet spills will be a manageable task with the help of a Dustless wet and dry vacuum cleaner. However, ensure that you clean up the machine immediately after you have cleaned a liquid spill.
Dustless Technologies has the right equipment for you, whether on a construction site or in the home. We have engineered each item to fit your existing tools and machinery seamlessly. Our dustless shrouds and vacuum attachments cut down on cleanup and respiratory problems.
The Dust Collection Systems
Our scraper vacuum attachment has a sharp blade so that it's easier than ever to peel away layers of debris from floors, walls, and other surfaces. It's compatible with our 18" hose and powerful Dustless HEPA Vac for a total mess-free system that makes working on projects a more precise and efficient task. In addition, you can conveniently add some replacement blades to your order for future use. Ours is the only tool you need to use when you're scraping away materials because it gives you a good grip and is lightweight enough to hold for extended periods of time. Eliminate project cleanup by collecting scraps automatically at the source, which means no more sweeping or picking up debris by hand. Dustless Technologies makes the most universal and cost-effective dust collection systems on the market. No need to replace your existing tools!

Creates Dust
Hand grinders, saws, drills, and other construction tools create large volumes of dust. This dust is harmful to your lungs, timely to clean up, and in many cases, required by law to be contained. Your tool can't solve all these issues alone.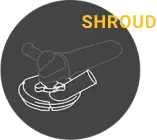 Diverts Dust
A shroud is a device that creates a controlled path for the dust to travel. Once it's attached to your tool and vacuum, it helps to control dust generation. Each Dustless Systems shroud is designed with a universal mount that fits most major types of tools.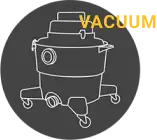 Collects Dust
Our Dustless Vacs were made with construction in mind. Every Dustless Vac is an essential part of a Dustless System. Every Dustless Vac provides superior levels of filtration and comes with a three-year warranty.
Shop Vac Customer Reviews
FAQs for Dustless Shop Vac
Other Products Related to Wet+Dry Vacuums