Dustless Technologies offers quality products that are specially designed for a universal fit, which means they seamlessly attach to most name-brand drills. Our convenient and easy-to-use drilling shrouds keep job sites clean, saving you time and effort.
Top-of-the-Line Drilling Shrouds
Drilling notoriously creates quite a bit of dust that can quickly build up and become a nuisance on the job. The fine dust particles and debris that are emitted from drilling must be rapidly contained to keep areas tidy and dust-free. So, how do you drill without getting dust everywhere? With Dustless drilling shrouds, the vacuum suction system pulls the dust out of the air and traps it. It's a simple yet necessary fix to an otherwise highly messy work area.
Using our top-of-the-line dust shrouds is as easy as attaching them to the drill you already use on a regular basis. Its universal fit makes it compatible with tools from many of the most popular brands on the market. It will capture debris without interfering with the task at hand, meaning you can do swift and efficient work without the hassles. Thanks to our robust technology, disposing of dust and debris is much easier afterward.
The Dust Collection Systems
The best addition to your tool set are dust shrouds for drills and certain other tools that send debris flying everywhere. You want an effective drilling shroud that will work on any surface without a problem. The technology we use in our products allows you to do just that and more. In fact, it will exceed your expectations because it's so easy to clean, and you may even find that it reduces some of the noise. Although we sell durable, high-quality drilling shrouds and other products, we include a warranty to ensure that you'll be delighted with your purchase. Dustless Technologies offers the most universal and cost-effective drill shroud systems for collecting dust as you work on your construction project. No need to replace your existing tools!

Creates Dust
Hand grinders, saws, drills, and other construction tools create large volumes of dust. This dust is harmful to your lungs, timely to clean up, and in many cases, required by law to be contained. Your tool can't solve all these issues alone.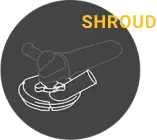 Diverts Dust
A shroud is a device that creates a controlled path for the dust to travel. Once it's attached to your tool and vacuum, it helps to control dust generation. Each Dustless Systems shroud is designed with a universal mount that fits most major types of tools.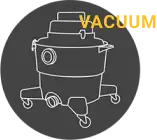 Collects Dust
Our Dustless Vacs were made with construction in mind. Every Dustless Vac is an essential part of a Dustless System. Every Dustless Vac provides superior levels of filtration and comes with a three-year warranty.
Dustless Technologies Makes the Best Drilling Shrouds
Dustless Technologies makes the best drilling shrouds because they're compatible with your tools. Everyone knows that dust buildup gets in the way when you're drilling holes, which is a major inconvenience for anyone working on a construction project. It can interfere with your ability to produce quality craftsmanship since it's harder to see what you're doing. Not to mention, it also affects your ability to work efficiently due to the extra cleanup involved after you're done. These inconveniences are all a thing of the past when you invest in our simple-to-use yet highly effective drilling shrouds.
They're made with an innovative vacuum system with sufficient power to collect the dust before it flies into the air. Attach the shroud to your drill and use the wet-dry Dustless Vac with up to 16 gallons of space for dust accumulation. With this robust machine, you can even use an 18" shroud adapter hose to give you more versatility in handling all kinds of jobs. They're available at a competitive price without sacrificing quality, so you can still have peace of mind knowing that it'll do their job. Dust shrouds for drills are a reliable attachment you'll be glad to have in your arsenal of tools.
Shop Dust Shrouds for Your Drill
Trap the dust and debris while you're working on your construction project by attaching one of the best drilling shrouds available on the market. Dustless Technologies offers drilling shrouds with good suction on various surfaces to help clean up the mess before it even occurs. If you're looking for a practical drill attachment to collect dust, you'll find that our products make debris removal more accessible than ever. Get products that will prove themselves to be well worth the investment by shopping with us. Check out our drill dust shrouds on our website and order yours today.