Dustless Scrapers
Scraping Equipment
Dustless Technologies scraping equipment attaches to the hose on your vacuum and sucks up paint chips, stucco, glue, and other debris as you scrape it away. Your renovation job just got a whole lot easier!
Mess-Free Vacuum Scraper Attachment
The vacuum scraper attachment is designed with vacuum slots on both sides of the blade, capturing 98% of popcorn ceiling material as it is dislodged. Its effectiveness at containing dust and debris makes it an excellent tool for scraping away stucco and for many other uses as well. Whether you're refinishing cabinets with old paint or removing mold from drywall, this product is the ideal tool to use on a variety of surfaces. With our scraping equipment, the high-performance vacuum suction pulls remnants of the scrapings and traps them in the wet-dry Dustless Vac with up to 16 gallons of space. All that's left to do once you're done is dump out the container without the added work of sweeping and clearing away scraps afterward. Your renovation project will be that much easier to manage with the right tools, and this one is among the best.
The Dust Collection Systems
Our scraper vacuum attachment has a sharp blade so that it's easier than ever to peel away layers of debris from floors, walls, and other surfaces. It's compatible with our 18" hose and powerful Dustless HEPA Vac for a total mess-free system that makes working on projects a more precise and efficient task. In addition, you can conveniently add some replacement blades to your order for future use. Ours is the only tool you need to use when you're scraping away materials because it gives you a good grip and is lightweight enough to hold for extended periods of time. Eliminate project cleanup by collecting scraps automatically at the source, which means no more sweeping or picking up debris by hand. Dustless Technologies makes the most universal and cost-effective dust collection systems on the market. No need to replace your existing tools!

Creates Dust
Hand grinders, saws, drills, and other construction tools create large volumes of dust. This dust is harmful to your lungs, timely to clean up, and in many cases, required by law to be contained. Your tool can't solve all these issues alone.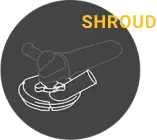 Diverts Dust
A shroud is a device that creates a controlled path for the dust to travel. Once it's attached to your tool and vacuum, it helps to control dust generation. Each Dustless Systems shroud is designed with a universal mount that fits most major types of tools.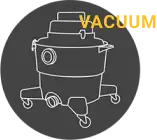 Collects Dust
Our Dustless Vacs were made with construction in mind. Every Dustless Vac is an essential part of a Dustless System. Every Dustless Vac provides superior levels of filtration and comes with a three-year warranty.
Easy-to-Use Scraper Vacuum Attachment
The scraper vacuum attachment from Dustless Technologies is so easy to use it'll be the only accessory you'll need for all your scraping projects. What would otherwise be a messy work area is now clear of paint chips and other scraps. Suction away dust and debris as you go along with this versatile piece of equipment that will save you time and money in the end. With its sharp blade and vacuum slots on both ends for efficiency, cleanup is as simple as dumping out the remnants collected in the large-capacity barrel. For anyone working indoors, a vacuum scraper attachment is a simple yet especially important tool when the job is in a confined space. It's highly beneficial in that it'll help you avoid respiratory issues or excessive cleanup time after you're done. Due to its excellent design, our scraping equipment will soon become a favorite in your arsenal of tools.
Shop Scraping Equipment Online Now
For your next scraping project, turn to Dustless Technologies for top-of-the-line tools that work. The highly functional design of our scraping equipment will prove essential as you work on removing layers of paint chips, wax, glue, popcorn ceilings, and more. Not only is the blade itself sharp enough to scrape off various materials with ease, but it also swiftly directs dust and debris into the vacuum hose for convenient disposal. You can rely on our vacuum scraper attachment to simplify your renovation job. Shop online and order your vacuum scraper tool today.
Other Products Related to Scraping Equipment